Reel World Reviews
Reviews From the 2018 AFI DOCS Film Festival
Washington CityPaper
For the Birds
Directed by Richard Miron
USA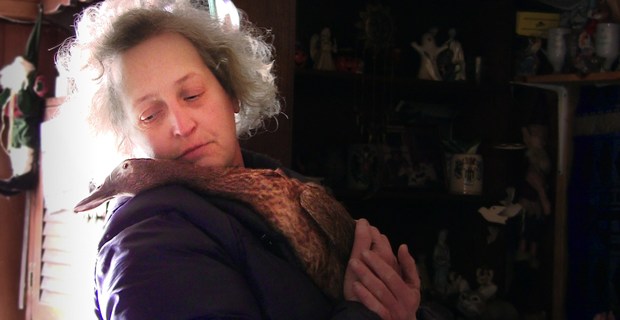 Kathy Murphy, the central figure in Richard Miron's captivating For the Birds, is the kind of person who you instantly regret entering into conversation with. She is antisocial and paranoid, and her hygiene falls well outside of social norms. She spends most of her day caring for the dozens of geese, chickens, and turkeys that have taken over the home she and her husband share in upstate New York. After a neighbor reports the unsanitary conditions, Murphy engages in a pitched battle with sanctuary workers and, eventually, local authorities to keep her beloved flock. As she refuses to give in to the authorities, she puts her marriage and even her freedom at risk.
It's a gripping tale, and the film's greatest achievement may be how it methodically changes our perception of its protagonist. It would have been easy to mock or judge Murphy—despite her affection for the birds, they are clearly better off at a well-run sanctuary—but Miron's steady and sympathetic eye persistently searches for her humanity.
As tensions escalate and Murphy begins to unravel from the strain of the fight, For the Birds unveils a deeply humanistic bent (it's executive produced by S-Town's Brian Reed and shares the podcast's gentle empathy). What emerges is a satisfying, even thrilling inquiry into mental illness, animal welfare, and the thin line between altruism and self-interest. It's a film not to be missed. —Noah Gittell
Friday, June 15, 6 p.m., AFI Silver Theatre and Cultural Center; Saturday, June 16, 2 p.m., Landmark E Street Cinema.