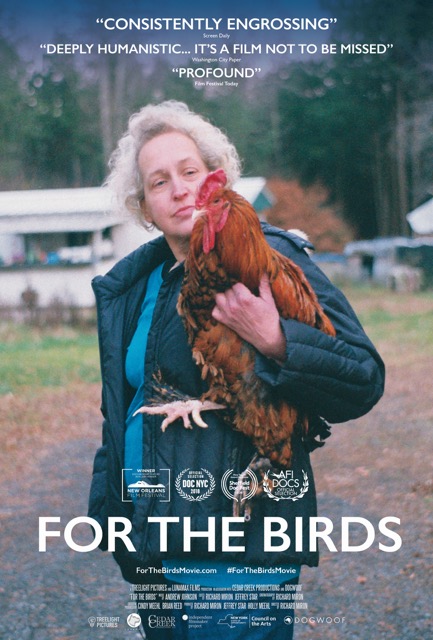 A woman's love for her pet ducks and chickens—all 200 of them—begins to threaten her marriage and draw attention from local animal rescuers. As an escalating custody battle unfolds in vérité, an unlikely cast of characters finds their own fates intertwined with the fate of these birds.
In Richard Miron's surprising and empathetic For the Birds, we follow an unusual woman named Kathy who lives with 200 pet chickens, ducks, geese and turkeys. What starts as a story seemingly about Kathy's battle with local animal advocacy groups slowly transforms into an intimate drama about her relationship with her husband Gary, and the toll the birds have taken on their marriage and her well-being. Filmed over the course of five years, this sensitive tale of one woman's world breaking down—poignant and absorbing in equal measure—is ultimately one of hope about the possibility of regaining one's life.
FOR THE BIRDS was selected as one of 10 documentaries to participate in IFP's year-long lab program in 2016, which helped us develop our cut and prepare for distribution.
One of ten projects selected
to participate in the
2016 IFP Documentary Labs.
Post-production was supported
by a grant from New York State
Council on the Arts.
---
Press
"Indelible… what makes 'For the Birds' stand out is its editing, which carefully builds a story from multiple perspectives."
Miron avoids easy conclusions about what drives Kathy, and he stays with her long enough for her story to surprise. The reward of his patience is a psychological portrait that develops mystery the more it reveals. From filth springs life — no less precious for its muddy origins. – Teo Bugbee, The New York Times
"Poignant," "surprising," "consistently engrossing"
A seemingly straightforward animal welfare case proves to be much more complex in For the Birds, a poignant documentary in which all the collateral damage is human. Richard Miron follows the story as it spirals from comic eccentricity to heartbreak… His very promising feature debut remains consistently engrossing through unexpected developments. He even surprises us with the sense of renewal and hope… – Allan Hunter, Screen Daily
"Deeply humanistic… it's a film not to be missed."
Captivating… a gripping tale, and the film's greatest achievement may be how it methodically changes our perception of its protagonist. – Noah Gittell, Washington City Paper
"Riveting" and "insightful"
The film marks one of those exciting moments when you realize that for as an unbelievable true story unfolds before your eyes, it's as remarkable, if not more so, that the right film crew was around to do it justice. – Stephen Saito, Moveable Fest
"Profound" and "memorable"
This splendid first film makes Richard Miron a definite talent to watch for in the future. – Jay Berg, Film Festival Today
"Observational cinema at its very best"
For the Birds succeeds brilliantly in spreading our sympathies across all parties and perspectives, dividing our loyalties up to the very end. – Chris Reed, Hammer To Nail

---