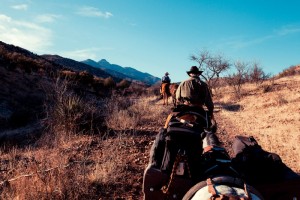 We're thrilled to be working on the feature film documentary UNBRANDED. 3,000 miles, 12 horses, 5 states, 4 men – riding from Mexico to Canada through the great American West. UNBRANDED follows four young men as they take on a monumental challenge that will change them forever. The journey begins April 1, 2013. The upcoming documentary UNBRANDED follows the story of Ben Masters, Thomas Glover, Jonny Fitzsimons, and Ben Thamer as they travel 3,000 miles through the deepest backcountry in the American West from the Mexican border to the Canadian border.  The pack trip will take over six months through Arizona, Utah, Idaho, Wyoming, and Montana in famously rugged country such as Yellowstone, the Grand Canyon, and the Bob Marshall Wilderness.  Mustangs, born and raised in the wild, will be taking them on their journey.   This is a story of the partnership between horse and rider, a testament to the human spirit and the courage to follow their dreams. Photo Gallery Follow the journey on Western Horseman's blog.
Visit UNBRANDED the film | Facebook | Twitter for more information.
---
Features
Ben Masters
Ben is the "master mind" of this trip and known to friends and family as "a man who gets things done." In 2010, Ben completed a 2000-­‐mile trip from Santa Fe to the Canadian border , a journey informed and inspired this upcoming adventure. That quest was so phenomenal that he was compelled to document the 2013 ride in a film. He has laid out the entire plan in great detail, from the route to the number of calories needed to sustain each traveler and how to get supplies sent to them. Ben has pulled in a very impressive group of creative filmmakers to work on his film by impressing them with his unwavering enthusiasm and incredible work ethic. Masters graduated from Texas A&M with a degree in Wildlife Biology and Conservation which gives him a deep understanding of the wildlife and eco-­‐systems that they will be encountering. A skilled and avid sportsman, he can always be found outside where he's riding, fly-­‐fishing, backpacking, hunting or outfitting. Ben's favorite phrase is "Let's make it happen!"…. and he does.
Thomas Glover
Thomas Glover hails from the big city of Houston where he grew up in the typical sports filled world of football, basketball and baseball. However, when he wasn't doing that, he was building skateboard ramps in his driveway and becoming very proficient using his dad's table saw, power drill and other tools. This inspired him to earn his degree in Construction Science at Texas A&M. This knowledge will make him a valuable member of the UNBRANDED team. Glover spent much of his high school and college years as a star rugby player, but still escaped for long periods to pursue his true passion: to ride and guide in the Rocky Mountains. His senior year at A&M, he worked in Wyoming for an elk outfitter where he fell in love with the physically demanding job of guiding and packing in the remote backcountry wilderness. In Glover's words, "It was a very easy decision for me to put everything on hold after graduation and go on this trip. I am a city boy whose heart belongs to the mountains."
Ben Thamer
Ben Thamer was born with a passion for the great outdoors. He spent every spare minute camping, fishing, hunting or skiing, which "taught me to appreciate the natural world and thrills that only Mother Nature can provide." In his youth, he admittedly obsessed over the cowboy lifestyle. He literally wore out copies of Lonesome Dove. Thamer immersed himself in college, finishing with a degree in Agricultural Economics at Texas A&M. He always did what was responsible and expected, "I joined a fraternity and started heading down the conventional path to a job in an office, wife, kids and a house on a cup-­‐de-­‐sac. Although I enjoyed my time in college and gained a ton of knowledge, I always felt pulled in a different direction." After three months working at a stable in Rocky Mountain National Park, Thamer says, "I immediately knew what I was meant to do." He can't wait to get back to the mountains and explore new country on horseback. Thamer's incredibly sharp wit and intellect will add the comic relief to this challenging journey.
Jonny Fitzsimons
Jonny Fitzsimons grew up on a cattle ranch in South Texas. He's been on horseback since he could walk and is an accomplished horseman with skills in roping, polo and training horses. He graduated from Texas A&M December 2012 from the Department of Agriculture. Jonny alternated his summers between training for the Marines in the Platoon Leaders Course and working on a dude and cattle ranch in Southern Wyoming. He will begin his term in the Marine Corp shortly after the long ride. With precise focus and skills of a Marine, Jonny is the guy you can rely on to get things done, and stay calm in a crisis. He is razor sharp, has a wonderful dry sense of humor, and his experienced horsemanship is a huge asset to the team. This trip will be his last taste of freedom before his first tour of duty.